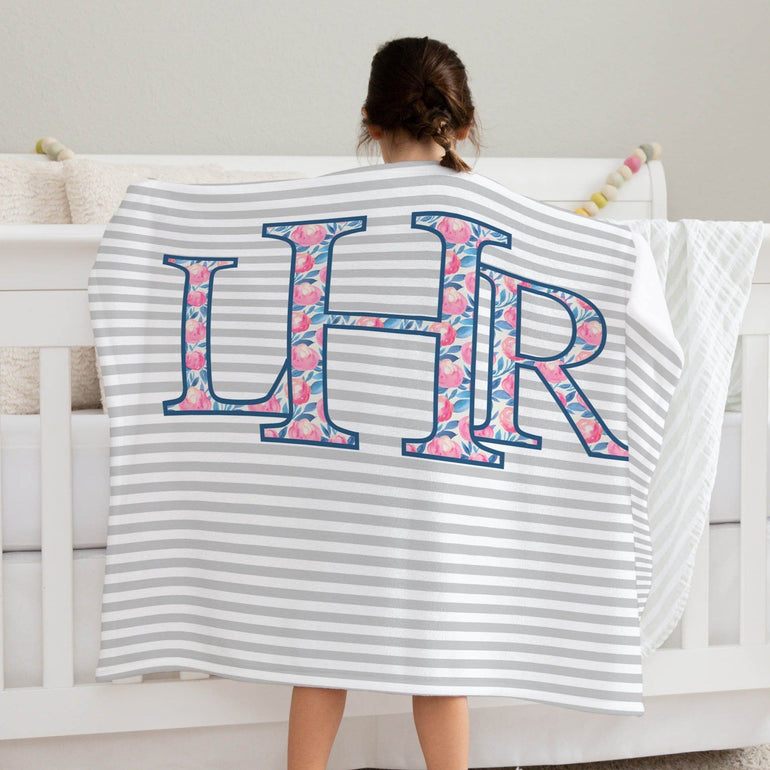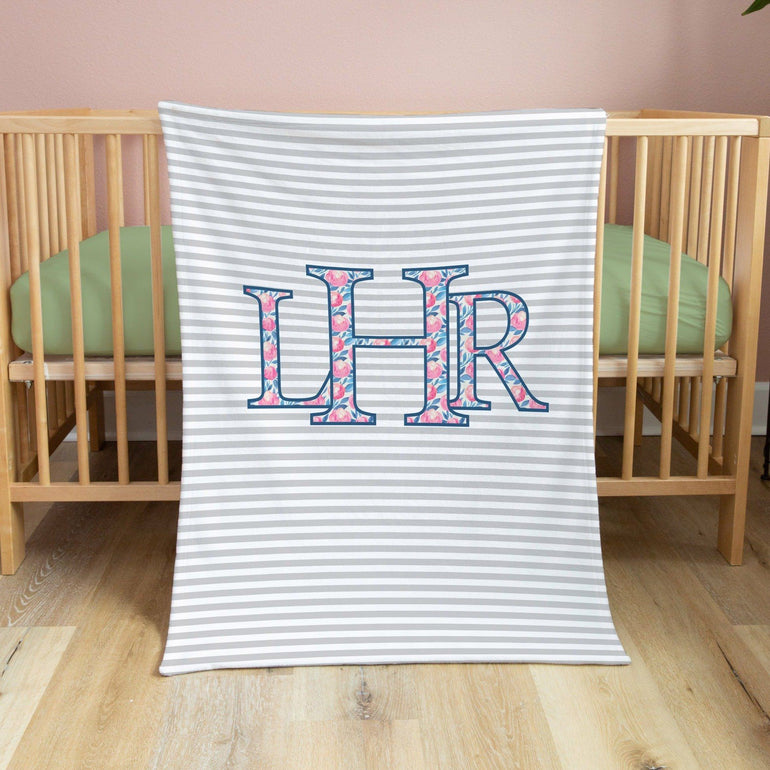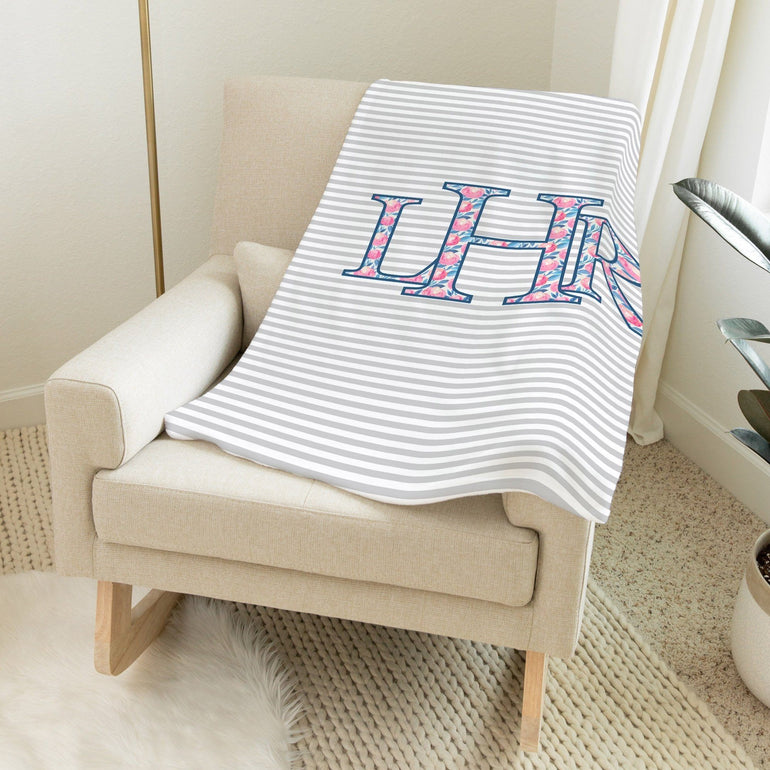 Pink and Navy Monogram Blanket
Bright, happy monogram + super soft blanket, what's not to love?
This extra soft pink and navy floral baby blanket is perfect for a cozy nap with mom and dad and sure to become everyone's favorite "blankie."
The 30 x 40" blankets are the perfect size to throw in a diaper bag or tuck in a car seat for napping on the go and the make a great newborn baby gift.
And matching 50 x 60" blanket is the perfect size to give to baby's big sister to make her feel just as special and loved.
Each blanket is made to order to make sure your little one's name is the star of the show.
// PRODUCT FEATURES
Extra soft minky blanket
Personalized design on the front
Back side is solid white
Two sizes available:

30"x40" - perfect size for babies and toddlers
50"x60" - perfect for toddlers and small children
// PRODUCTION TIME
Personalized blankets ship within 1 week of ordering
Need it sooner? Email me to ask about rushing production.
// CARE INSTRUCTIONS
Each personalized design is infused into the fabric making it fade-resistant and super soft
Machine wash cool / gentle cycle
Dry on low (casual) setting
Frequently Asked Questions:
(1) I didn't see a flower on the initial in my blanket preview, will that get added later?
It sure will! I can't show the flower placement in the preview tool but I review every design file and will not only add the missing flower, but I'll also review and the adjust the sizing and placement of your child's name and initial to make sure it looks beautiful before we turn your design into a silky soft blanket.
(2) My baby's name looks too big / too small / weirdly placed on the blanket in the preview, is that how it will look in real life?
No worries, mama, I review and the adjust the sizing and placement of your child's name and initial to make sure it looks just as beautiful as the pictures before turning your design into a super soft blanket.
(3) How long will it take to get my blanket?
Right now blankets take 9 business days to ship. Down the road we hope to get back to a 5 day turnaround but for now, expect 9 days before your blanket ships. USPS usually takes 2-3 days to deliver but there have been reports of delays in this current virus season
(4) Can you rush my order?
Sure - if you're in a hurry you can choose to add "rush" production for an extra fee. You can add the "rush" option here:
---
Free shipping on orders over $75
Pink and Navy Monogram Blanket
Shipping
All of our products ship from Arizona (blankets) or Florida (everything else.)
Orders ship within 10 days of ordering.
Need it sooner?
Email us at hello@thegracefulgoose.com to see if we can rush your order.
Note: there is a $20 upcharge to rush your order.
Previews
We're happy to send a final preview of your order before it ships. Just let us know you'd like a preview in the notes at checkout.
Preview requests will DELAY shipping by up to 3 days.
Things to Know
- Colors may vary slightly due to color resolution on your monitor/device.
- Prayer Bears are handmade and will have slight variations. If you order more than 1 at a time I do my best to make them match as closely as possible.
- Art prints do not include real gold foil; gold words have a faux foil texture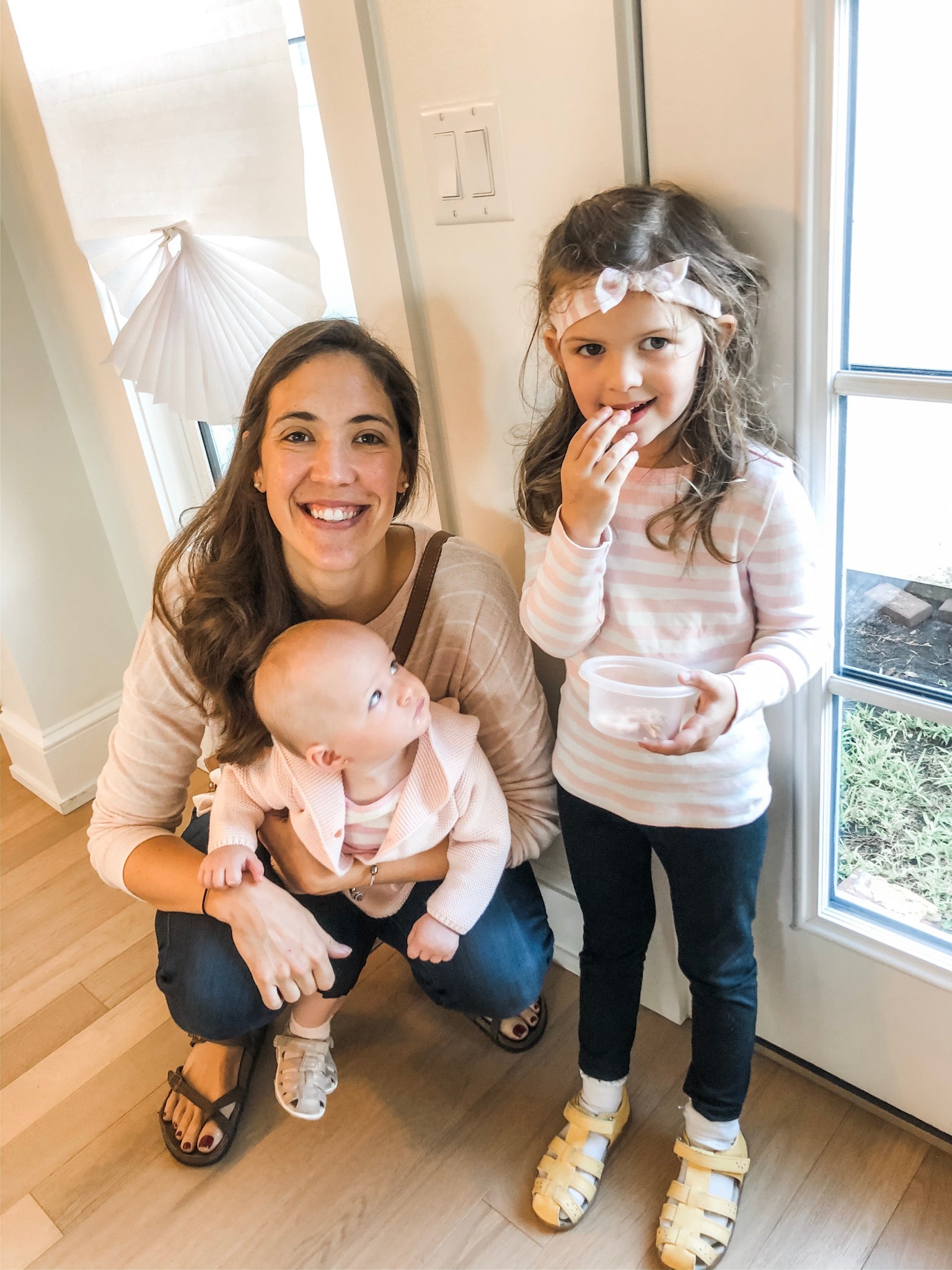 From our family to yours:
As a small, family-owned business we fill every order with a little magic and a whole lot of love. 
We believe deeply that God loves ALL of his children fully and unconditionally - no matter what their race, religion or sexual orientation is - and we can't wait to walk alongside you as we raise radically inclusive, faith-filled families.